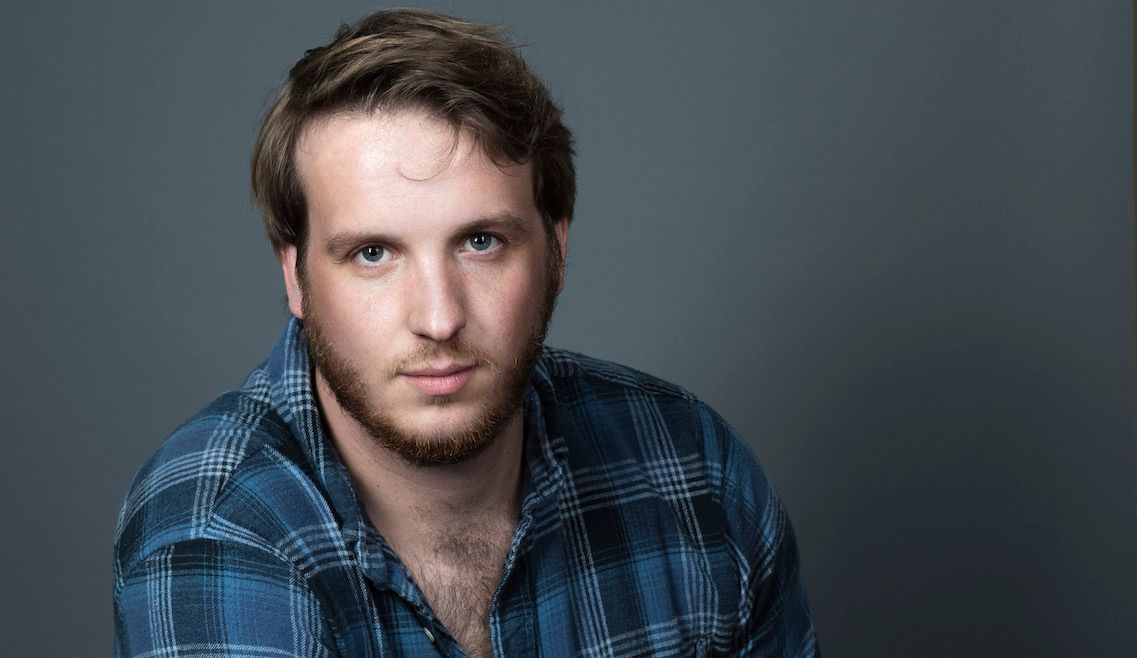 by T.J. Banks 
Photographed Exclusively for A&U by Alina Oswald 
What strikes you first about Cody Bondra is his earnestness; what strikes you next is his instinctive feel for music. That's not surprising: after all, the guy does vocals and guitar for his five-piece country rock and soul group, Cody and the Contraband. But for him, it goes way beyond simply playing the music—it's about "focus[ing] on feeling the music…the rest will come naturally. Listen to the music, don't just hear it." 
Jack Lemmon once said pretty much the same thing about acting. 
"Good music, to me, is storytelling," the Avon, Connecticut, musician explains. "The song has a theme with all the characteristics of a compelling novel pressed into just a few minutes. You have to feel what you're playing." 
But it goes further than that for Bondra. He is also an LGBTQ ally and an HIV/AIDS advocate; and as such, he makes a point of promoting awareness of the disease and of Project ACHIEVE at his band's concerts. 
Project ACHIEVE was started back in 1995. It is part of the New York Blood Center's Laboratory of Infectious Disease Prevention and is located in the Lindsey F. Kimball Research Institute. The Project's goal is, as its website puts it, "to effectively find ways to prevent HIV infection. To achieve this, we work with many populations in the New York City area, including men who have sex with men, transgender persons, and heterosexual women and men." Part of the group's thrust is working with the Columbia Research Unit on HIV-preventative medical trials. The other is educating the community at large about awareness of the disease and "build[ing] acceptance for HIV-affected individuals, and nationwide support for HIV research." 
Bondra became aware of the organization when he was checking out the vendors at an exposition at the Javits Center about four years ago. He had worked at a hospital, but he hadn't really given the disease a lot of thought. "Growing up, my image of HIV was Magic Johnson and Freddie Mercury because I love sports and music," he says now. "Fortunately, Magic Johnson's still with us, [even though] Freddie Mercury has passed. We know now it's not automatically a death sentence." 
His conversation with the Project ACHIEVE people lit a spark, and he began plugging the organization at his concerts outside of New York City. "We just try to spread the word. One of the reasons I like Project ACHIEVE is that they focus on the educational side of it, which is what turned me on to it. 
"We're becoming more enlightened about HIV," the musician continues. "For me, the stigma is the first thing to go. I don't think that you could ever erase the stigma completely. Ideally, you want to, but you're always going to have people that don't want to be educated, and they're just going to have that set viewpoint." Because of its emotional charge, "HIV might be the most powerful three letters in the English language." 
Bondra has been promoting Project ACHIEVE through social media for the last three years. He would "like to incorporate them into shows because we have an audience we can reach. We're no celebrities by any means, but we can offer information. Whether they take it or not is, unfortunately, beyond our control." 
His next comment echoes his earlier one about music and listening. HIV education "also starts by being willing to listen," he insists. "Because you can have all the facts, all the statistics, but you have to want to learn about it. You can film a great movie—or cut a great record—but if nobody watches it or listens to it, does it really exist? For me, it all starts with wanting to learn about it." 
His advocacy work has made him more conscious and more cautious. "It's made me more conscious about what I'm doing. My whole approach is that as fun as sex can be, you have to be safe." And he's more cautious now because he realizes that "at any time, it can affect not only you but somebody you love. If, God forbid, it does affect somebody you love, you can help them." 
Bondra's not entirely sure why he was drawn to Project ACHIEVE's work with HIV/AIDS awareness. He doesn't know why it "clicked" with him, but it did. "I think that part of me wanted to erase the stigma. It's just something I became very aware of. I mean, there are other diseases—STDs—but by learning more about it [HIV/AIDS], you understand how important it is. I'm trying every day to learn more, and every day, I'm learning the importance of it."